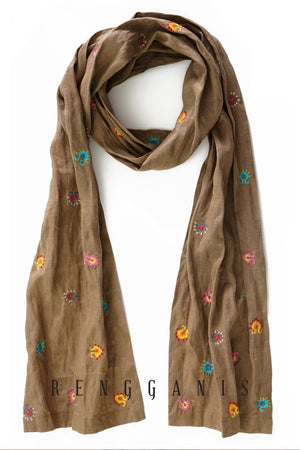 Mamuli Scarf
Sumba is an island in eastern Indonesia that is famous for its indigenous culture and art, unique from other areas of Indonesia. Among the common symbols seen in Sumbanese art is the "Mamuli", usually found as amulets and motifs on handwoven textiles. Its shape is associated with the female reproductive organ and equates to fertility and honouring the women of the tribe.
These scarves are hand embroidered on 100% linen using a special technique resulting in a similar quality of embroidery on both sides, unlike the common computerised embroidery.
These can be worn on the neck, head, and waist, and can be ordered in customised size.
Colors of linen may vary depending on fabric availability. We will confirm the details prior to every order. 
25 x 175 cm, 100% Linen
Made to order, delivery time 2-4 weeks excluding shipping time.
Contact us by email rengganis.info@gmail.com or Whatsapp +62-81802231222 for further questions.