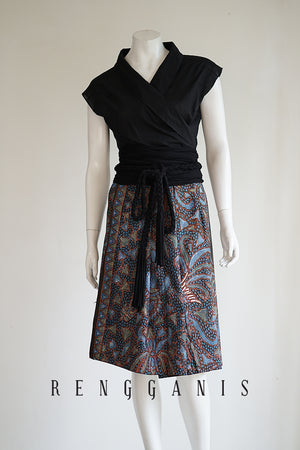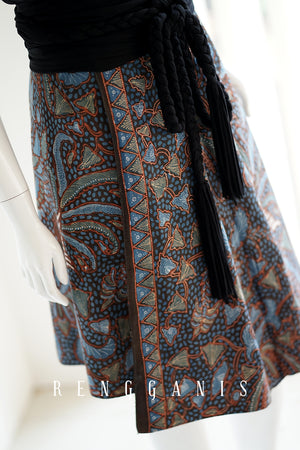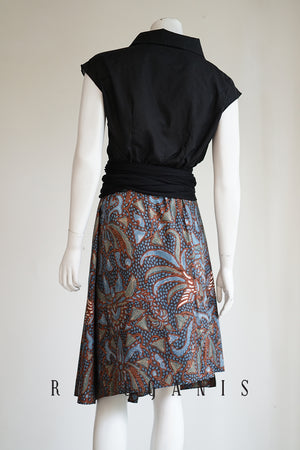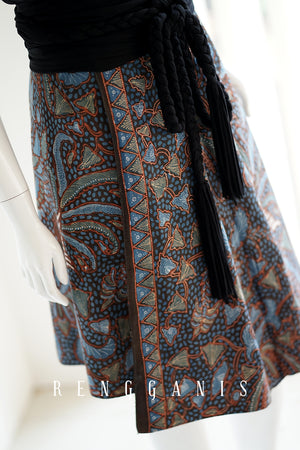 Uncut Batik Short Pleated Skirt
Uncut hand-drawn batik (Tulis) sewn into a ready-to-wear wrap skirt with large pleats. 
100% cotton, naturally dyed, from Bayat, Central Java.
Only 1 is available in this motif, but there are many other batiks to choose from. Click here for the options. This can also be purchased unsewn (as a whole batik textile) for Rp. 950.000.

Worn with Mono Top with the signature Knit Obi Belt, available in many colors: Black, Red, Maroon, Navy Blue, and Tan (Light Brown). 
Made to order, delivery time 1-2 weeks excluding shipping time. We apologize for not accepting direct payment with credit cards. Due to the nature of most of our products that use limited or one-of-kind textiles, we must confirm all orders through email/Whatsapp for their availability and give you our bank details for manual transfer. So please proceed at check out and ignore the payment instructions. Thank you for your kind understanding. Overseas payments may use Paypal in US$. 
Contact us by email rengganis.info@gmail.com or Whatsapp +62-81802231222 for further questions.