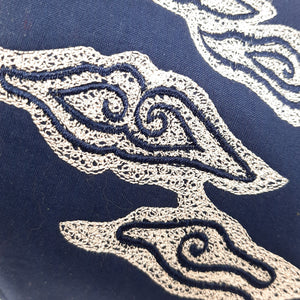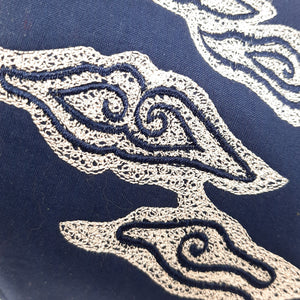 Navy Blue Monochrome Mega Mendung Facemask
Hand embroidered facemask   
These are handmade reusable face masks to keep you protected in style and comfort. They can be ordered with elastic ear loops or cotton straps so it can be tied in the back for hijab. All of my masks are made of 100% cotton, layered with woven interlining for softness, another layer of non-woven interlining for extra filtering, and another layer of 100% cotton as a pocket to hold interchangeable tissue filter. 
Handwash using regular detergent, don't wring, dry with inside facing the sunlight, iron with high heat. Pay attention to the position of the label inside so you don't wear it upside down.
Most of these items are now ready in stock but in case they are noted SOLD OUT, they can be pre ordered with a lead time of approximately 2 weeks. For pre orders, specifications and colors of fabric may slightly vary depending on availability. 
Please select your preferred size and strap type. Photos below show the backtied strap version, and how to insert filter.
Please contact us by email rengganis.info@gmail.com or WA +62-81802231222 for further questions.